AVC report
JOHANNA K., REPORT SUBSCRIBER
»My children also love AVCreport and are very touched by the stories. The reports help them think outside the box.«
»My children also love AVCreport and are very touched by the stories. The reports help them think outside the box.«
AVCreport
Moving stories, exciting news
Want to look behind the scenes and dive deep into what's happening on the front lines? In our AVCreport, we offer you reports from all over the world. Get to know people and AVC projects in around 60 countries.
Browse the AVCreport online here in the reader or subscribe to the print edition.
Available in German and French.
Ausgabe 02 | 2023
TÜRKEI | SYRIEN | Die große Erschütterung
SÜDOSTASIEN | Islamischer Hotspot
BHUTAN | Wo Christsein illegal ist
NIGERIA | Gemeinsam entkommen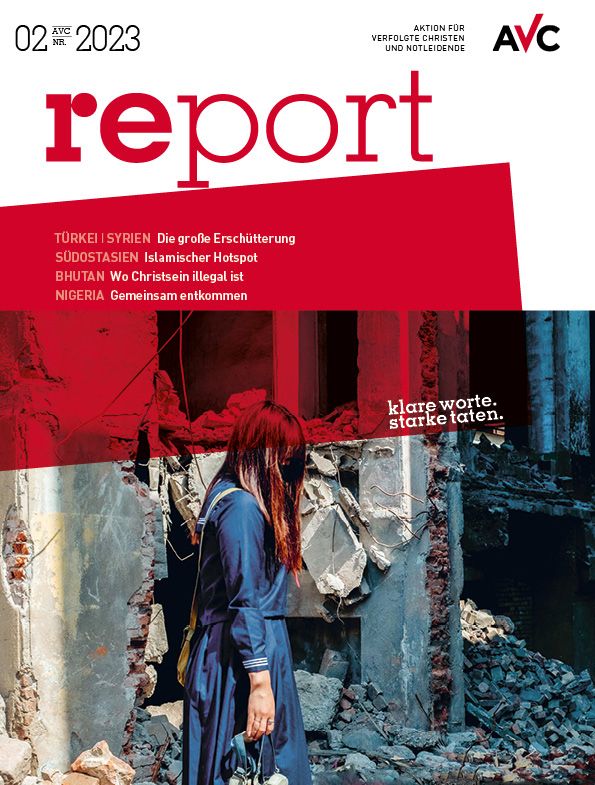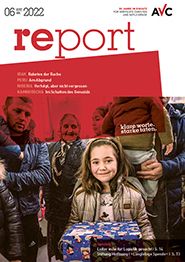 Ausgabe 06|2022
UKRAINE | An der ukrainischen Hilfsfront
TSCHETSCHENIEN | Gefahren und Wunder
BANGLADESCH | Zwischen den Fronten
INDIEN | Standhaft trotz blutiger Gewalt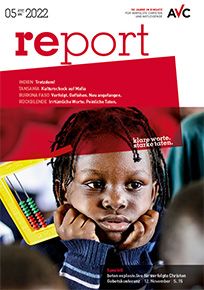 Ausgabe 05|2022
INDIEN | Trotzdem!
TANSANIA | Kulturschock auf Mafia
BURKINA FASO | Verfolgt. Geflohen. Neu angefangen.
RÜCKBLENDE | Irrtümliche Worte. Peinliche Taten.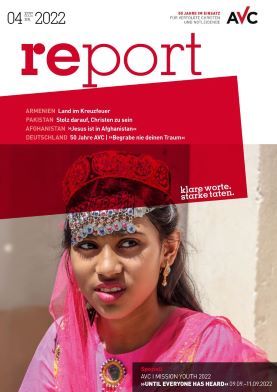 Ausgabe 04|2022
ARMENIEN | Land im Kreuzfeuer
PAKISTAN | Stolz darauf, Christen zu sein
AFGHANISTAN | »Jesus ist in Afghanistan
DEUTSCHLAND | 50 Jahre AVC | »Begrabe nie deinen Traum«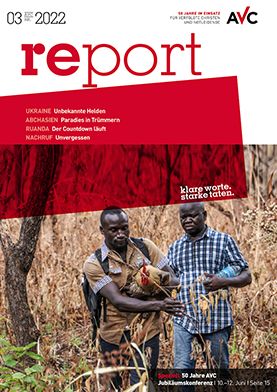 Ausgabe 03|2022
UKRAINE | Unbekannte Helden
ABCHASIEN | Paradies in Trümmern
RUANDA | Der Countdown läuft
NACHRUF | Unvergessen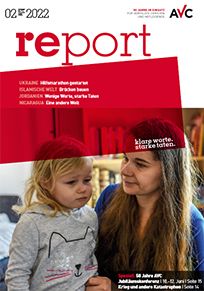 Ausgabe 02|2022
UKRAINE | Hilfsmarathon gestartet
ISLAMISCHE WELT | Brücken bauen
JORDANIEN | Wenige Worte, starke Taten
NICARAGUA | Eine andere Welt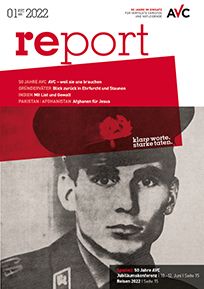 Ausgabe 01|2022
50 JAHRE AVC | AVC - weil sie uns brauchen
GRÜNDERVÄTER | Blick zurück in Ehrfurcht und Staunen
INDIEN | Mit List und Gewalt
PAKISTAN | AFGHANISTAN | Afghanen für Jesus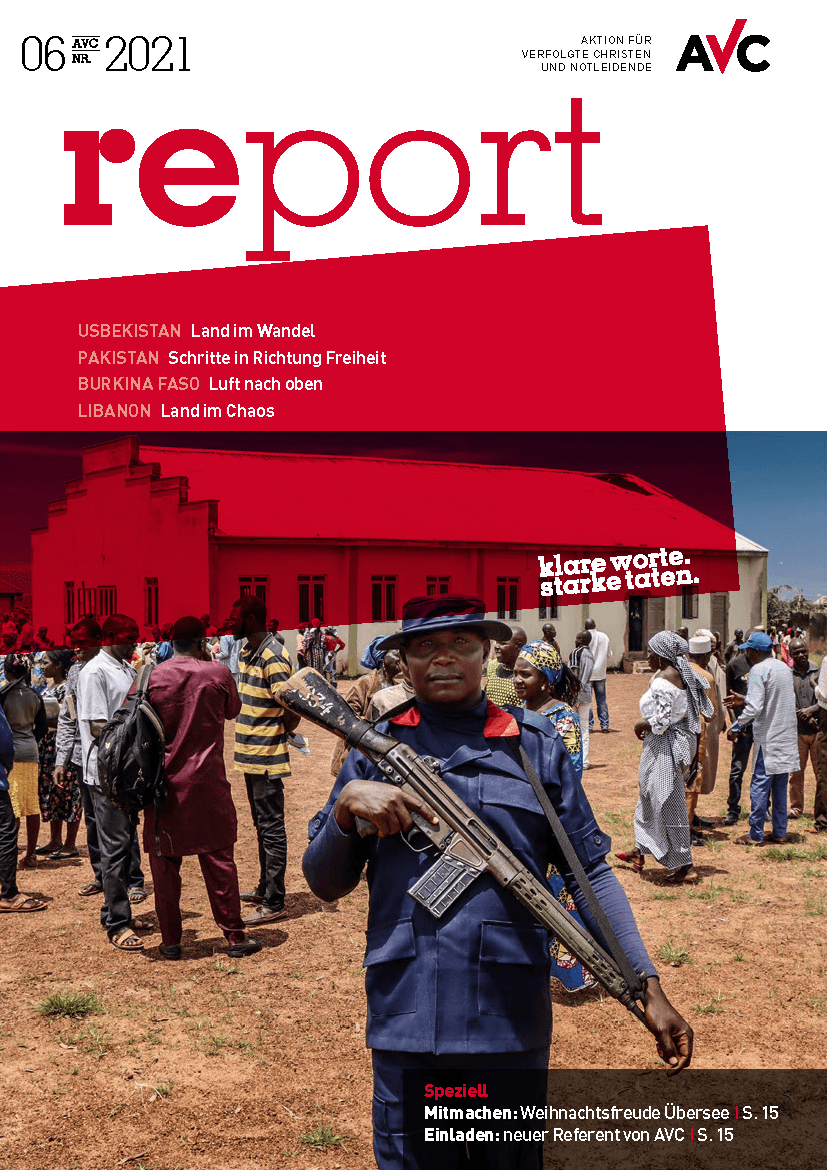 Ausgabe 06|2021
USBEKISTAN | Land im Wandel
PAKISTAN | Schritte in Richtung Freiheit
BURKINA FASO | Luft nach oben
LIBANON | Land im Chaos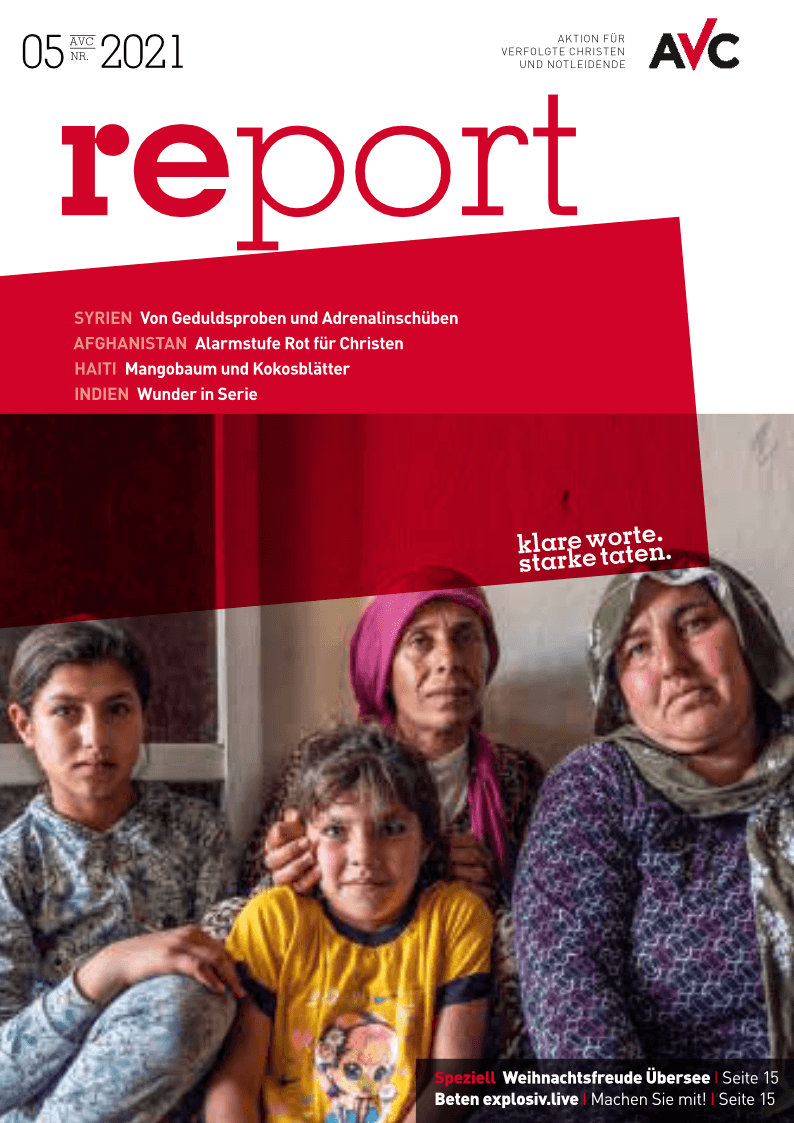 Ausgabe 05|2021
SYRIEN | Von Geduldsproben und Adrenalinschüben
AFGHANISTAN | Alarmstufe Rot für Christen
HAITI | Mangobaum und Kokosblätter
INDIEN | Wunder in Serie
Every engagement starts with staying informed. We have several free offers for you, digital and printed. Stay up to date.
AVC REPORT
Our bimonthly report: a comprehensive, beautifully designed magazine. Read moving and informative reports, stories and updates from our countries and projects (in German and French).


AVC NEWSLETTER
At irregular intervals, depending on current events, we send news and updates from our work by e-mail. Short, concise, informative (in German and French).


PRAYER MAIL
Closed borders, anti-Christian laws, violent persecution - what limits us physically does not matter for prayer. Subscribe to our weekly prayer email and reach closed countries and hearts with your prayers (in German and French).


SOCIAL MEDIA
You can find AVC on social media too. Subscribe to us, like, share and comment on our posts. That's how we reach an ever-growing crowd of followers together (in German and French).